The annual Vision 360 banquet brings together current students, alumni, and friends of the college to celebrate how God is using MCC to advance His kingdom. Alumni awards and student awards are part of the program.
Join us in-person or online for an inspirational evening highlighting the past, present, and future of Manhattan Christian College.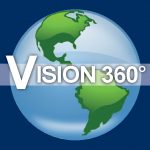 Friday, April 12, 2024
5:00 p.m.      Punch Reception
6:00 p.m.      Meal in Howie's Activity Center
6:30 p.m.      Program (In-Person or Online)
8:00 p.m.      Dessert Reception
Convenient parking access for both Anderson Village and Howie's Activity Center from the MCC parking lots.
It is a free event. Friends of the college are encouraged to invite others who might be interested in knowing more about
• MCC's mission
• What the college is currently doing to advance that mission
• How the college is moving forward
• How financial gifts make a difference
Please let us know your plans by April 1.
Questions or phone reservations may be directed to the President's Office at 785-539-3571 or emailing April Wendt