"We are Family" Alumni Reunion
April 14 @ 8:00 AM

-

April 15 @ 5:00 PM

Plan to join the fun, Alums!
Friday, April 14:
7:30-11:30 AM: Registration in Coffin Hall Lobby
8:00 AM: Golf with Pres. Ingram (leaving MCC at 7:35 AM)
8:30, 9:30, 10:30 AM: MCC Classes – check out a class with our great professors!
10:30 AM: Campus Prayer Walk
11:30 AM: Lunch in Campus Center Cafeteria
1:00 PM: Free Time (watch for options coming out in October), Campus Tour option A
4:00 PM: Campus Tour option B
5:30 PM: Vision 360 Banquet Event – Howie's Activity Center (childcare provided for children 12 and under)
8:10 PM: Alumni Group Picture (right after Vision 360 concludes)
8:30 PM: Alumni Dessert Reception – Jolliffe Hall Chapel
**Showcasing our new Athletic Hall of Fame**

Saturday, April 15:
8:30-10:00 AM: Come and Go Decades Coffee Connections
1950's, 1960's, and 1970's alums: Brothers Coffee Co (in Anderson Village)
1980's and 1990's alums: Flight Crew Coffee (downtown Manhattan on Poyntz Ave)
2000's and 2010's alums: Bluestem Bistro (Aggieville)
10:30 AM: Alumni Praise/Worship in Jolliffe Hall Chapel
12:00 PM: Grill Out Lunch and Games at Manhattan City Park South Shelter and Recreation Zone
(featuring sand volleyball games, 3 v 3 soccer games, and cornhole)
2:30 PM: Prayer Send Off
View/Print Brochure Page 1 HERE
View/Print Brochure Page 2 HERE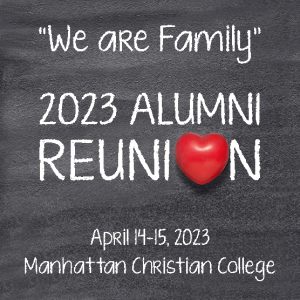 Plan to join the fun, Alums!
Friday, April 14:
7:30-11:30 AM: Registration in Coffin Hall Lobby
8:00 AM: Golf with Pres. Ingram (leaving MCC at 7:35 AM)
8:30, 9:30, 10:30 AM: MCC Classes – check out a class with our great professors!
10:30 AM: Campus Prayer Walk
11:30 AM: Lunch in Campus Center Cafeteria
1:00 PM: Free Time (watch for options coming out in October), Campus Tour option A
4:00 PM: Campus Tour option B
5:30 PM: Vision 360 Banquet Event – Howie's Activity Center (childcare provided for children 12 and under)
8:10 PM: Alumni Group Picture (right after Vision 360 concludes)
8:30 PM: Alumni Dessert Reception – Jolliffe Hall Chapel
**Showcasing our new Athletic Hall of Fame**

Saturday, April 15:
8:30-10:00 AM: Come and Go Decades Coffee Connections
1950's, 1960's, and 1970's alums: Brothers Coffee Co (in Anderson Village)
1980's and 1990's alums: Flight Crew Coffee (downtown Manhattan on Poyntz Ave)
2000's and 2010's alums: Bluestem Bistro (Aggieville)
10:30 AM: Alumni Praise/Worship in Jolliffe Hall Chapel
12:00 PM: Grill Out Lunch and Games at Manhattan City Park South Shelter and Recreation Zone
(featuring sand volleyball games, 3 v 3 soccer games, and cornhole)
2:30 PM: Prayer Send Off
View/Print Brochure Page 1 HERE
View/Print Brochure Page 2 HERE